TRANSFORMERS FOR HEADPHONE AMPLIFIERS
We offer a range of headphone transformers for single ended drive and drive from an ac coupled cathode follower. 3 or 4 equal secondary windings are provided on some models to give flexibility in the driving circuit and the headphone impedance. It is always best to use all all the secondary windings to get he best high frequency response. To select the ratio you want connect 1,2,3 or 4 windings in series and then connect any unused windings in parallel with the selected ones. The diagram below shows the result of the various ways of connecting 4 equal secondary windings with a nominal impedance of Z.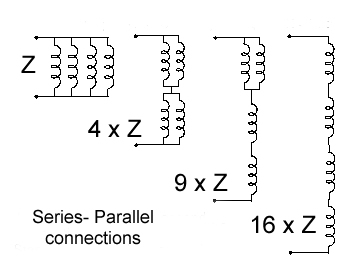 CHOICE OF TRANSFORMER
The transformer should ensure there is enough voltage and current (power) to drive the headphones. The ratio of the transformer and the impedance of the headphones will determine the reflected load seen by the valve. It does not matter if the headphones see a reflected impedance of the valve which is lower than the headphone impedance. The lower the impedance seen by the headphones the better. The anode will see the headphone impedance multiplied by the ratio squared.
All types are supplied in a fully shrouded package.
TWO TRANSFORMERS are required for a stereo system.