Custom EQ Inductor Service
We can make EQ Inductors to your specification from 1 mH to 100H. Please enquire for larger inductors. EQ inductors are adjusted to +/- 5% . We can provide up to 5 taps (7 leads) for no addittional charge.
If you order the PCB option there is a limit of 4 taps maximum.
All inductors are packaged in a Mumetal can 34 mm dia. and 24 mm high. M3 mounting holes in the bas 19 mm apart are provided. Or we can provide a threaded grommet for a small extra charge. To order or quote with postage and VAT please use the link BUY.
DC Resistance and Q value for EQ Inductors We will make the dc resistance as small as possible but the value will depend on the inductance and frequency Tolerance We can only guarantee the inductance value as measured by our meter as meters vary considerably.
Standard designs We have a number of standard EQ inductors for pro-vintage gear see EQ INDUCTORS.

Typical R and Q values at 1000 Hz

| | | |
| --- | --- | --- |
| L(Henrys) | R (Ohms) | Q |
| 0.1 | 0.5 | 125 |
| 1.0 | 57 | 109 |
| 10 | 600 | 104 |
E-MAIL FORM
Please use this form to send us your specification. You will receive an automatic confirmation as soon as you submit the specification. Within a few days we will send you a specification reference which will enable you to order using our on-line shop. On receipt of your order we will give you a firm delivery date which will normally be 3 weeks.
Style f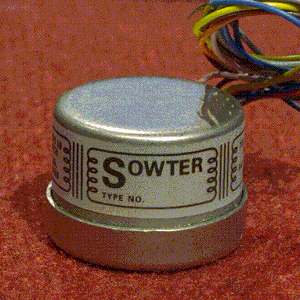 Style e (extra charge)